Looking for the best beach and island vacation ever in Asia? Then pack your bags and head over to Malaysia. Straddled by the Andaman Sea on its west and the South China Sea on its east, Malaysia is famous for its stunning coastlines, pristine islands, naturally diverse landscapes, and clear skies all year round. There is certainly no shortage of beaches in Malaysia. Located within the world's coral reef distribution, Malaysia has a plethora of islands that will enthrall even the most demanding traveler. Blessed with 878 islands and archipelagos, read on as we countdown to the top 12 Best Beaches in Malaysia not to be missed by any tourist type under the sun.
Sipadan Island
Best Island for Diving in East Malaysia
Immerse yourself in Sipadan's rich marine biodiversity
Sipadan Island in East Malaysia lures avid divers like bees to honey, thanks to its rich underwater biodiversity, amazing reefs, and sudden drop-offs into the deep blue. Ranked as one of the top ten diving destinations in the world, divers are rewarded with sights of teeming barracudas, sea turtles of varying species and reefs flocked by angelfishes. Here, relive your favorite National Geographic moment as you swim along with the sharks, manta rays, whales and schools of hammerhead fishes. With more than 3,000 species of fishes, a dizzy array of coral species and touted as the best dive spot in Malaysia, Sipadan's untouched beauty never fails to impress.
How to Get There
From your location, fly to Tawau in East Malaysia. You can fly to Tawau from Kuala Lumpur, Singapore or from Kota Kinabalu, the capital city of Sabah in East Malaysia.
Upon arriving Tawau, a land transfer of 90 minutes will take you to Semporna. From Semporna, take a resort speed boat for another 45 minutes to reach Sipadan Island.
Where to Stay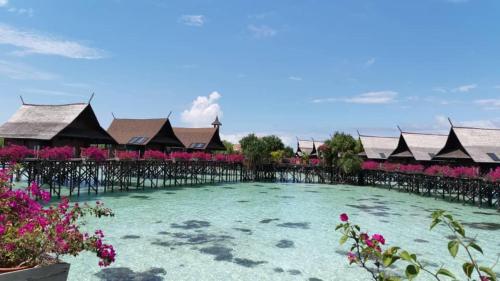 The Sipadan-Kapalai Dive Resort is set amidst a breathtaking view of the Celebes Sea. Laid out like a village rising out from the ocean, be sure to book your stay and dive slot in advance as the resort is allocated only 4 dive permits per day. This translates to at least one confirmed chance for a magical dive if you stay 4 days 3 nights on the island.
From the Sipadan Dive resort, simply hop in a boat and head off to adjacent islands such as Mabul Island, Si Amil Island, Roach Reef, Mataking Island, or Ligitan Island for more breathtaking underwater action.
Langkawi
Best Beaches in Malaysia in December
Wanting to escape the frigid winter for a sunny, tropical climate in December? Then head over to Langkawi Island at the northern tip of Peninsular Malaysia. Shielded from the monsoon season that pummels the east coast, Langkawi enjoys fairly good weather even during the monsoon months. Many beaches in Malaysia are shut down then, but this one maintains decent weather. While Pantai Cenang (Cenang Beach) at Langkawi is a much raved, the beach is more commercialized and can be a little too busy for comfort if you are someone who treasures peace and quiet.
Away from the bustling crowd lies the scenic Tanjung Rhu beach which is a better option. Famed for its crystal-clear water and powder-fine sand, its coastlines are home to an array of marine life and one of the best places to snorkel. Do not bother packing your own snorkeling gear as you can rent them here for a small fee.
How to Get There
By Air:  From Kuala Lumpur, fly straight to Langkawi island. Take a hotel transfer to your destination, or hail a Grab car ride. Should you wish to explore the island at your own pace, then renting a car from the airport is your best option.
By Train:  From the KLIA Airport, board the train to KL Sentral. Disembark and switch to the KTM ETS train from KL Sentral to Arau. The 5-hour train ride is absolutely comfortable, priced at the starting fee of MYR76 for adults and MYR42 for kids. From Arau, take a taxi to Kuala Perlis for approximate MYR25. From the Kuala Perlis jetty, aboard the ferry for Langkawi. The ferry ride lasts one hour and 15 minutes, and the ferry arrives every hour from 7 am to 7 pm daily. The cost per adult is MYR18 and MYR13 for kids per trip. For the latest updates on the ferry schedule between Kuala Perlis and Langkawi, do check this link.
Where to Stay
The Four Seasons Resort in Langkawi is a 5-star, premium and all-inclusive resort, often proclaimed as one of the best beach resorts in Malaysia for a honeymoon. Equipped with 2 outdoor pools, a private beach, attentive staff, alfresco dining at the shore and endless activities at the resort, the Four Seasons Resort will leave you awed with their hospitality and impeccable amenities.
Pangkor Laut
Best Beach and Island in Malaysia for Honeymoon

Looking for the ultimate tropical honeymoon destination that will leave your partner breathlessly in love? Pangkor Laut Resort hits all the marks as one of the most romantic resort on one of the most beautiful beaches in Malaysia for a honeymoon.
Located on a privately owned island of Pangkor Laut, the resort is set amidst the lush backdrop of tropical rainforest and flanked by the sun-kissed Emerald Bay beach. For couples, be spoiled for choices and pick from a customized menu of Signature Experiences where you can enjoy a lovey-dovey candlelight dinner for two over sunset, learn the culinary secrets from a skilled chef or go on a food adventure nearby at the Pangkor Island fishery. Alternatively, who could resist a 3-hour pampering session of couple spa befitting for the king and queen.
Yearning for some adventure within nature?
Then explore the Starts of Malacca and its surroundings on a chartered cruise. There is a host of other water activities such as fishing, kayaking, waterskiing, and snorkeling. Alternatively, book a guided tour of the island and learn about its steep Dutch history.
How to Get There
By Car: By far, traveling by car from Kuala Lumpur to Lumut (the main gateway to Pangkor Island) is the best option. The journey from KL to Lumut takes around 3 and a half hours.
Upon reaching the Lumut Jetty, park your vehicle for the duration of your trip here. There are ample parking areas nearby the jetty, which cost MYR10 per day to park. If this is your first time to Malaysia, then rent a taxi from KLIA international airport for a stress-free ride to Lumut.
Another available gateway to board the ferry to Pangkor is at Marina Island. The ferry ride from Marina Island to Pangkor is much shorter at only 10 minutes, but the tickets are pricier at MYR14 for a return ticket. Parking rates are also more expensive, ranging between MYR15 and up to MYR30 per day during peak season.
The first boat leaves at 07:15 am, with trips from the mainland to Pangkor available on an hourly basis. Information regarding the latest timetables and fares from Marina Island is available at the official website of Pan Silver Ferry Service.
There are no direct flights from KLIA to Lumut.
By Air: It was previously possible to fly from Kuala Lumpur to Pangkor Island with Berjaya Air from Subang Airport (SZB), but the flights have been ceased, and the only way to fly now is to charter your private flight.
Alternatively, you can fly from Kuala Lumpur to Ipoh, the nearest airport to Pangkor Island. Then hail a Grab ride to Ipoh's Aman Jaya Bus Terminal and take a bus to Lumut. With wait times and a switch in transport modes, the time required to travel by air could be equivalent, or even longer than traveling by car. Coupled with a higher cost, this option is the least favorable.
Where to Stay  

The Pavarotti Suite at the Pangkor Laut Resort opens to a breathtaking view of the sea and the tropical forest. With an enormous open-roof bathroom and decadent interior, expect more melancholy days here as you unwind on the spacious balcony, soaking in the lulling sounds of crashing waves and gentle sea breeze.
Perhentian Island
Best Beaches in Malaysia for Backpackers
Planning to see as much of Malaysia on a shoestring budget, but not wanting to compromise on experience? Then there is one island befitting for tourist on a tight wallet: Pulau Perhentian Kecil (which literally means "Small Island Stop")
Long Beach is one of the most famous beaches in Malaysia among backpackers. Crystal clear water fringing the beach makes Perhentian Kecil an ideal spot for snorkeling. In addition, the sunny weather, cheap food, economical accommodation, and pulsating nightlife are perfect ingredients for an ultimate backpacker's getaway.
How to Get to There
By Air:  Catch a flight from Kuala Lumpur airport or Subang Airport and land at Kuala Terengganu. From here, take a bus to Kuala Besut and transfer via ferry to Perhentian Island. The journey by ferry covers 20 kilometers (or 12.4 miles) and the last trip out is at 4 pm. Therefore, plan your departure to arrive in the morning to avoid putting up another night at Kuala Terengganu.
Foreign tourists are charged MYR30 ($7.40 USD) as a conservation fee. The torrential Eastern monsoon takes place from October to December. During the monsoon season, choppy water and heavy rain renders the islands not accessible for diving or snorkeling, and not safe for boats to travel out to sea. As such, the Perhentian Island is open for business between April and September.
By Bus:  As the journey via road takes anywhere between 6 to 8 hours, expect to spend your night on the bus. Arrival will between 4 am to 6 pm the following morning at Kuala Besut. The bus depot Kuala Besut departs on a daily basis. Tickets cost MYR45 ($11.10 USD) per person. From the bus stop at Kuala Besut, take a short walk to the Kuala Besut port. Remember to pack along some snacks or sandwiches as bakeries and fast food outlets are not easily found in Kuala Besut.
Where to Stay
Ombak Dive Resort (in which "Ombak" means wave) meets all the necessities of a beach-bum, backpacker-cum-diving enthusiast. The rooms may be small but are clean, equipped with air conditioner, an attached bathroom and complimentary WIFI 24/7. Backed by an excellent diving school with knowledgeable diving instructors, plus a lovely evening atmosphere to boast, Ombak Dive Resort is a steal.
Gaya Island, Sabah State
Best Natural Preserve Island in Malaysia
Of the five islands declared as a natural conservation island under the Tunku Abdul Rahman Marine Park, Gaya Island is the largest and the closest to Kota Kinabalu, the capital city of Sabah state. Measuring 1,465 hectares, the hilly island has lush tropical rainforest and home to a myriad of flora and fauna. Gaya Island's signature golden beach, rocky coastal outcrops, and abundant coral reefs make it a stunning place to visit and a gem among the many gorgeous beaches in Malaysia.
How to Get There
By Flight:  The only way to get to Gaya Island is by air. Fly directly to Kota Kinabalu international airport. From there, a 7-minute drive via taxi or hotel transfer will get you to the Jesselton Point Ferry. Hop on a 10-minute speed boat ride from the Ferry Terminal and you will reach this beautiful island and one of the best beaches in Malaysia.
Where to Stay
The Gaya Resort Island is an all-inclusive premium beach resort with acclaimed reviews. Comprising of 5 dining options, a private beach, an outdoor pool, and unprecedented hospitality, this resort has a slew of nature and adventure activities that will lure you back for more.
Rawa Island
Best Beaches in Malaysia Near to Singapore
Tropical Paradise just a stone's throw away from the Lion City
"Been there, done that" just does not apply to Rawa Island, as this island redefines your water slide experience. Here at Rawa Island, you can slide down giant water slides and splash right into the crystal-clear ocean! For safety reasons, the giant water slide is only open for use during high tide from 11 am to 4 pm daily. This tiny, paradise coral island is located at Mersing District, Johor State and owned by the Sultan of Johor.
Apart from its signature water slide, the translucent clear water at Rawa Island makes it one of the best beaches in Malaysia to snorkel. You can easily spot colorful fishes, baby sharks, sea urchins and stingrays swimming around the vast coral reefs.
How to Get There
By Car:  Rawa Island is a 4-hour, 30-minute drive from Kuala Lumpur. If you are coming from Singapore, a mere 3-hour drive from the Lion City will get you to the Mersing Jetty. From the jetty, hop into a speed boat for a 30-minute ride to the island. The speed boat and ferry ride range between MYR35 and MYR45. The island is not accessible to the public during the monsoon season from November to March.
By Bus:  From the Larkin Bus terminal in Johor Bahru, take the Transnational, S&S or Causeway Link bus to Mersing town. The 2.5 – 3-hour journey will cost approximate MYR10 per trip. If you are coming in from Singapore (and boarding from Lavender St Terminal), take the Transnational Bus to Mersing. Tickets cost MYR12 (if purchased in Malaysia) or SGD27 (if purchased in Singapore) for a one-way trip.
By Flight:  By air, you can either choose to fly to the Senai Airport in Johor Bahru, Malaysia or Changi Airport in Singapore. From the airport, take a taxi to the Mersing Jetty.
Where to Stay
Comprising of beach villas fronting the sea, the Aseania Resort Pulau Besar is paradise on earth. Boasting a blend of traditional, Malay architecture with woody accents and emerald clear water surrounding the island, it is no surprise that this resort was chosen as the film location for the Swedish reality program, Expedition Robison. Set foot on this island and you will immediately agree to disregard any negative comments you've read about this pristine marine park. And close to KLL, one of the most convenient beaches in Malaysia.
Avani Sepang Gold Coast Resort
Best Beaches in Malaysia Near Kuala Lumpur
If you are staying in Kuala Lumpur and do not wish to travel too far from the capital city of Malaysia for an idyllic seaside retreat, then Avani Sepang Gold Coast Resort is just a stone throw away. Located a mere 43 minutes' drive from Kuala Lumpur International Airport, the Avani Sepang Gold Coast Resort comprises of neatly-arranged villas built on stilts over the sea, shaped to look like a coconut tree from a drones-eye-view.
Each of the 315 Polynesia inspired villas comes with private balconies that overlook the Straits of Malacca. Boasting 6 dining options, a spa, a kids club and an infinity pool, the list of amenities extend beyond this. With bike tours, customized classes on local culture, mangrove trips and a buffet spread that caters to every dietary requirement you could imagine, this is simplicity and indulgence at its best!
How to Get There
From KLIA, book an airport taxi, hail a Grab taxi or arrange for airport transfer directly to the resort.
Guests can try canoeing, a pampering massage at the spa, or join tours to surrounding mangroves and plantations. The little ones will enjoy the indoor and outdoor activities at the kids' club. Airport transfers can be arranged at the 24-hour reception.
Pulau Kapas
Top 3 Beaches in Malaysia
Apart from the Perhentian Islands located on the east coast of Malaysia, Kapas Island (or Cotton Island) is one of the most beautiful islands on the east coast. Unlike its popular cousins like Redang Island and Perhentian Island, Kapas Island is simple, with a handful of small budget hotels and void of the frills of luxurious 5-star hotels. This less-crowded, minimalistic island teems with marine life and is lined with majestic reefs. WIFI connection is generally weak, if not unstable at times, making digital detox a natural process. Divers around the world are drawn to this island to explore the hidden gem found in the World War II Japanese shipwreck nearby Kapas Island.
How to Get There
By Flight:  As Kapas Island is one of the islands that form the cluster off mainland Kuala Terengganu, getting to the former is the same as getting to Perhentian Island. The only difference is the direction of the boat ride to the island.
By Bus:  Depart from Kuala Lumpur airport and arrive a Kuala Terengganu. From the airport, take a bus ride to Kuala Besut. Thereafter, take a ferry to Perhentian Island. The journey by ferry covers 20 kilometers (12.4 miles and the last trip out is 4 pm. Therefore, plan to arrive in the morning to Kuala Terengganu so that you do not have to put up another night here.
Foreign tourists are charged pay MYR30 ($7.40 USD) as a conservation fee to enter. Due to the Eastern Monsoon that takes place from October to December, the Perhentian Islands are only open for business between April and September. During the monsoon season, choppy water, heavy rain, and storms renders the islands not favorable for diving, and not safe for boats to travel out to sea.
As the journey via road takes anywhere between 6 to 8 hours, the bus trip departs from Kuala Lumpur late at night, for arrival in the early hours in the morning at Kuala Besut. The bus departs on a daily basis. Tickets cost RM45 ($11.10 USD) per person. From the bus stop at Kuala Besut, take a short walk to Kuala Besut's port. Remember to pack along some snacks or sandwiches as bakeries and fast food outlets are not easily found in Kuala Besut, neither do they open at 5 am in the morning.
Where to Stay
From Kapas Island, take a day trip to Gem Island – a small island adjacent to Kapas Island and accessible via speed boat. Gem Island is extremely serene and peaceful. Set on a private island paradise, here you can swim with the sharks a few meters from the shore. And at the Gem Island Resort and Spa, you can wake up to sightings of sharks swimming just below your balcony! One of the most secluded beaches in Malaysia.
Penang Island
Best Heritage and Cultural Island in Malaysia
The Pearl of the Orient, Penang Island
If there is one island that allows you to experience its unique blend of local cultures, diverse heritage and gastronomical delights of epic proportions, then Penang Island in Malaysia is the place to go. Also known as the Pearl of the Orient, Penang is a fascinating fusion of old-world charm and cutting-edge modernity. From the locals' right to the foreign tourist and expats who call Penang their second home, the charms of Penang never fail to imprint lingering memories. At this UNESCO World Heritage Site, ride the tram up to the famous Penang Hill and enjoy a bird's eye view of the island amidst the cooling hill breeze.
Art aficionados, head down to the Armenian Street– some of the best murals in George Town painted by the renowned street artist Ernest Zacharevic. Get fruity and go "bananas" on a guided tour of tropical fruits. At the Tropical Fruit Farm in Penang, learn about how the local succulents are grown, pluck the fruits and enjoy your harvest ranging from mangosteens, soursops, the king of thorns (durian) and other fruits in season. End your tour with a session of fruit enzyme mixture tasting – capping off the 1.5-hour tour covering more than 250 tropical and subtropical fruit trees planted in Malaysia.
Take advantage of the Instagram-friendly street art like the "Boy On The Bike" along Lebuh Ah Quee, Penang
While in Penang, ditch that diet plan you are on. Give in and indulge in some of the best street food you can think of. And fear not – the food here will not make you cringe. No spiders, no insects or unthinkable innards. Just pure good street food such as fried kuey teow (fried flat noodles), nasi lemak (rice cooked in coconut milk, meat, and condiments), curry mee and chendoI (a dessert bowl of ice shaving top with nuts and condiments soaked in evaporated / coconut milk). It's no wonder Penang is heralded as one of the best places in the world for superb street food.
How to Get There
By Air:  The Penang International Airport is accessible by air from major cities around the world. You can board the national carrier Malaysia Airlines or budget airlines such as AirAsia or Firefly for cheaper rates. From the airport, take a taxi or bus to reach any point on the island.
By Car:  A drive from Kuala Lumpur to Penang via the North-South Highway takes 4.5 – 5 hours. Once you reach Butterworth, the island's main entry point, you can either drive across the Penang Bridge to reach the Pearl of the Orient or ride the ferry to cross over the island. You can also transport your vehicle via the ferry, for a small fee. We have to say that if time is on your side, the ferry ride is quite an eye-opener. Aboard the ferry from Butterworth and alight at Weld Quay.
By Train:  Ride comfortably in the KTM ETS all the way from KL Sentral station in Kuala Lumpur to Butterworth. Although slightly longer than the bus at 4 hours, you will be rewarded with picturesque rural landscapes. Do opt for the ETS Platinum ride which has fewer stops (8 vs. 11 stops on an ETS Gold Class). Plus, light refreshments are served.
Where to Stay
Does heading out for dinner at the end of the day sound like a drag? If that sounds familiar, then staying in a hotel within walking distance to a landmark shopping mall is your solution. Located a mere 3 minutes' walk to the Gurney Drive Hawker Centre is The Gurney Resort Hotel and Residence.
Apart from its proximity to the central business district and various major tourist attractions, the Gurney Resort Hotel boasts spacious rooms and a huge pool with a slide. Perfect to amuse the little ones for some time. After hours on your feet, there is no better way to unwind but in your decadent bathtub with the Jacuzzi bubbling away.
Tanjung Aru Beach
Best Beaches in Malaysia As Rated by TripAdvisor
Tanjung Aru's Unmistakable Sunset Is Nothing Short of Breathtaking
While a count of 403 reviews on TripAdvisor isn't incredibly high, don't let these numbers fool you. Tanjung Aru Beach (which translates to Casuarina Beach) is one lesser-known gem you should experience. The beach vibes have an uncanny way of kneading your tension away upon setting foot here. The sunset along Tanjung Aru is nothing short of spectacular. Tourist throng the beach to watch the sunset, with Mamutik Island and Tunku Abdul Rahman in its foreground. One of the most romantic beaches in Malaysia for a candlelit dinner. Venture beyond Tanjung Aru beach and open to a whole new world of gastronomical delight. The nearby open-air food court offers great Malaysian noodle dishes, seafood straight out from the ocean and grilled to perfection.
How to Get to There
Located merely four miles south of Kota Kinabalu, take a 20-minute bus from Kota Kinabalu or hail a taxi for a 15-minute ride by taxi. Public buses leave regularly from the City Hall and Wawasan Plaza in the southern part of Kota Kinabalu, for Tanjung Aru. Board the #16 buses signed "Tanjung Aru Beach" and alight at the parking lot of the food court. This is the last stop before the bus heads back to the city.
If you dislike crowded public transport, then the taxi ride. To Tanjung Aru Beach, it will cost approximately MYR 15, equivalent to about US $3.30. Always insist that the driver uses the meter before starting your journey.
Where to Stay
Located just 10 minutes away from the airport, the award-winning  Shangri-La's Tanjung Aru Resort & Spa, Kota Kinabalu is a luxurious retreat for an amazing tropical getaway. With 6 unique dining experiences, a stunning sunset view and hospitality that melts weary souls, the staycation is worth every dime with prices starting at USD50. This is certainly one of the best beaches in Malaysia for an all-inclusive good time.
Batu Feringghi
Top 3 Beaches in Malaysia to Party
There are two Bora Bora beaches along Batu Feringghi. Bora Bora by Sunset is hands down the better place to party. One of the most popular beaches in Malaysia for party-goers. Come nightfall, the whole stretch of Batu Feringghi is a hive of activities. You'll hear booming reggae beats and jazzy tunes from live bands serenading travelers.  A relaxed and friendly atmosphere until the mood builds up from lunchtime all the way to 3 am in the morning. Prowl the beach of Batu Feringghi and you will find a comfortable mix of upscale bars and no-frill types – all set against the lulling sounds of the crashing waves. And as you down your MYR10 beer or sip your MR20 Long Island Tea among great company, you know you have found paradise and a fantastic bargain on this side of the earth.
How to Get There
By Bus:  From the Penang International Airport, hop on bus number 102 heading to Komtar. The ride takes approximately 35 minutes. From Komtar, ride on bus number 101 for Jalan Batu Feringghi. While this option is the cheapest, the estimated traveling time is longer at 1.5 hours.
By Taxi:  Cut your travel time down by half and reduce the hassle of transiting by getting a taxi. From the airport, a 30-minute ride costing between MYR75 and MYR95 will get you to Batu Feringghi. We would advise you to hail a Grab ride instead of an airport taxi.  The cost of the latter can be close to 2X the cost for a Grab.
By Car:  Willing to brace yourself for hectic Penang traffic and daredevil Penangite drivers? Then rent a car from the airport. Daily rental ranges between MYR100 and MYR140. Simply return the car on the last day of your vacation at the airport.
Where to Stay
Recognized as one of Malaysia's leading kid-friendly resorts, the Golden Sands Resort by Shangri-La is the perfect escapade for families with young children. Let your kids have a splashing fun time at the mini water park. Children can interact safely, slither down water slides and anticipate the next shower from the giant tipping bucket.
The Hotel houses the largest indoor play park in Penang. The Adventure Zone is a perfect place for kids to play on rainy days. Couples can enjoy the outdoor Jacuzzi in the garden and heaps of recreational activities throughout your stay. With accommodation very affordable, nothing beats the wholesome hospitality and 4-star service at Golden Sands Resort Shangri-La, Batu Feringghi.
Conclusion
As you can see, there is so much to see and do on the many beaches in Malaysia. Thanks to its tropical climate, the rays can get intense. While you are out exploring, don't forget to slather on sunblock with SPF protection to prevent sunburn. And stay hydrated at all times. Apart from the sunny skies, occasional downpours and warm hospitality, we are sure you will be back for more. Time flies indeed. One week in this paradise is just not enough to explore what the beaches in Malaysia have to offer.
Copyright secured by Digiprove © 2019