Tokyo, being the largest and most complex city on planet earth, presents a fairly significant question to be answered for anyone thinking about where to stay in Tokyo.
Tokyo has 23 different wards and 47 different neighborhoods, so you'll need to nail this down early on in your planning. Each area has its' own distinct character and choice of activities for the curious tourist, and everyone has a preference. Therefore, I highly recommend planning where you stay around what Tokyo Activities you'll be seeking out, before looking at accommodation.
So, assuming you've got an idea of that already, I will provide you specific recommendations on places I have personally had a good experience at, for each location based on:
Area activities;
Proximity to public transport; and
Availability of options for all budgets.
Before diving in, we do need to cover some of the different accommodation types in Japan, as you may not be familiar with them all, and a few are indeed a real Japanese experience you may want to try.  Additionally, it's good for you to know that, in Japan, hotel pricing is closely tied to the vacancy rates and expected demand at the time you're looking to book. A 50 USD/ night hotel can shoot up to 400 USD or more if it fills up or if it's during a holiday (of which there are many). So, make sure you book in advance or you may end up sleeping in a capsule hotel or Karaoke room (more on that later).
Accommodation in Japan
Luxury
Ranging from 200-1,000 USD/ night or more
You'll be familiar with some of these brands, such as Grand Hyatt, Mandarin Oriental to name a few, but some of them you won't. Japan has many luxury-brand hotels not widely known outside Japan and, if it's in your budget, many are very, very nice.
Mid-Range
Ranging from 100-200 USD/ night
Most of these are Japanese brands you have never heard of, with locations in every city, and almost always the best value and combination of quality and price. Expect a decent room, a newer hotel, and a restaurant on the premises, though no fancy bars or restaurants. Tip: Eat the Japanese breakfast buffet.
Budget/ Business 
Ranging from 50-100 USD/ night
These hotels are typically single beds, very cramped and a bit on the aged side, but well priced and with the same basic amenities as most other hotels. If staying in one, you may want to ask for an extra pillow upfront since most tend to save money by providing only one, very thin pillow per room. Also, if you're traveling with large luggage, you'll need to keep it at the front desk.
Capsule Hotels 
Ranging from 25-75 USD/ night
The Capsule Hotel is an accommodation type-specific to Japan, a result of the limited space available and a plethora of people regularly needing a cheap place to rest. The sleeping quarters resemble a wall of small (roughly 4FT x 4FT x 7FT) but private capsules containing a mattress, lighting controls, alarm clock, outlets, small space to store a bag and sometimes even a TV. You enter it from the front, separated by an operable divider located at the front opening. The living areas are segregated into male and female, each with its own common use bathing and toilet facilities.
Capsule hotels are an experience indeed, mostly used by budget salarymen, tourists, those that have missed the last train for the night or didn't plan in advance. Similarly, very popular with budget travelers or those seeking a novelty. This is why I recommend you stay in a capsule hotel one time. In fact, some are actually enjoyable and can be quite convenient if you only need a place to catch a few hours of sleep.
Love Hotels (Rabuho)
Ranging from 50-200 USD/ night
If you did not already know about love hotels, please allow me to explain. Love Hotels are a very common type of short-stay hotel in Japan without nearly the stigma such a thing may have in your home country. Strictly for couples (you cannot go to a love hotel alone), love hotels offer a discreet stay in a room that is either decorated in high-end décor or "themed" (think robots, mirrors, schoolgirls, maids, UFO's, jungles, Hello Kitty and even Winnie the Pooh).
Love hotels are frequented by everyone from young couples living with their parents (and no privacy) to secret lovers, nightlife romances, prostitutes and curious tourists. Most love hotels offer a wide selection of room service, beverages and unique amenities such as lavish jacuzzies, shower rooms, and in-room karaoke (not to mention adult toy vending machines in the room). Love hotels can be priced for a "rest" (a few hours) or a "stay" (overnight). As you can imagine, discretion is a constant theme at all love hotels, and interaction with staff is non-existent.
You cannot book most love hotels in advance.
…but a few listed here you can. To stay, you enter the lobby, review a panel displaying the types of rooms available, and make your selection before proceeding to the room as prompted by the flashing lights. To check out, you provide your payment to the automated payment machine located in the room, which accepts cash, and (sometimes) card. This occurs at the end of your stay. As such, there is no set checkout time and you can stay as long as you want once checked in.
The highest concentration of Love Hotels in Tokyo is in Shibuya and Shinjuku, and can be recognized by their abnormal names (almost always beginning with the word Hotel) and wildly themed exterior décor and architecture. I do recommend staying in one at least once; however, expect these to be very full on the weekends. Forget the taboo associated with short stay hotels in your home country, because these can be quite high class, entertaining,  and always fun.
Ryokan (City Guesthouse)
50-200 USD/ night
Ryokans are a very traditional Japanese Inn, complete with tatami flooring, futon bedding (think a roll-up mattress, not a couch type futon), tea rooms and usually a very traditional dinner and/ or breakfast. Ryokan can be found all over Japan, both catering to tourists and locals alike. Ryokan can be either City Ryokan, having a somewhat similar to a hostel or, and more popular, Onsen Ryokan, located in Onsen, or natural hot spring towns. Always an experience in and of itself, but Ryokan are the most enjoyable in Onsen towns, of which there are a few within 2 hours of Tokyo.
Onsen Ryokan (Hot Spring Guesthouse)
100-500 USD/ night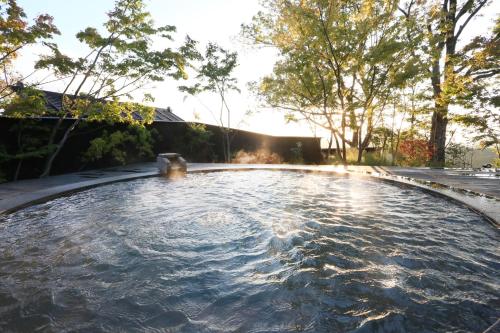 Japanese Onsen, or natural hot spring baths, are common across the country, usually in the countryside, as Japan is a hotbed of volcanic activity. There are many types of Onsen, public, private, gender-segregated and mixed gender. Onsen "Ryokan" are a traditional way to enjoy the natural hot springs right in your hotel. Some (more expensive) Ryokan provide a private outdoor hot spring bath for your room, while others have public baths, reservation only baths and on-site or numerous private baths scattered about the property.
The natural hot spring waters contain different nutrients in different parts of the country and are known to be incredibly healthy and rejuvenating. These Ryokans include a traditional dinner, breakfast and in-room tea amenities. With a few notable Onsen towns close enough to Tokyo for a day trip, I highly recommend taking advantage of this during your stay. A truly "can't miss" experience.
Hostels 
20-50 USD/ night
Hostels catering to foreign travelers can be found all over the city. This can be a very low budget way to explore and meet fellow travelers, although at the cost of some privacy. Many hostels offer private rooms in addition to the shared rooms most people are familiar with.
24 Hour Internet Cafes and Karaoke Rooms 
Low budget and/ or for emergency purposes
These options may come as a surprise to you, but it's perfectly normal. However, they should only be considered as a last resort to get off of the street and catch a few hours' sleep if you find yourself without a room. Though not officially geared towards overnight stays, these facilities do provide either a bed or basic sofa(s) and can be paid for cheaply for a quick overnight stay or couple hours of sleep. Japanese people do this frequently (usually due to missing the last train), and you can eat and drink there too.
For karaoke rooms, ask for "free time," which means that you pay for 3 hours, but the time is free after that until a certain time the following day. Karaoke rooms might work for a group, while internet cafes are more suitable for single travelers, most resembling a private office. Either way, just make sure they have a futon or sofa prior to making payment.
Best Neighborhoods to Stay In
Shinjuku
Where to Stay for Dining, Entertainment, and Nightlife
One of the main nightlife, business, and transportation hubs in Tokyo, Shinjuku (shin-joo-ku) is a city all its own. Besides claiming the title of "World's Busiest Train Station" at 2 million people per day, the area around Shinjuku Station is bustling with a unique combination of restaurants, shopping, nightlife and attractions that are second to none in Tokyo.
For the majority of restaurants and entertainment…
You will want to stick around the Kabukicho (Ka-bookee-cho) area, just to the East-Northeast of the main train station. Since this area is one of the main entertainment hubs of Tokyo (you may have heard of the Robot Restaurant), Shinjuku is popular both with the 20 something crowds as well as the working-class adults. Also nearby, the famous Golden Gai, an old street lined with many old fashioned novelty bars, is a throwback to old Japan. Both of these areas are ripe with some of the best food and nightlife around.
Shinjuku is also home to many government buildings, office parks, and some very nice museums such as the Samurai Museum, among others. With all of the activity, you won't be getting bored and may actually become exhausted.
Shinjuku overall is a good location to stay in, if you're seeking entertainment, dining, nightlife and quick access to other areas of Tokyo. One thing it lacks, is more affordable hotels or capsule hotels, though there are a few.
| | |
| --- | --- |
| LUXURY | MID-RANGE |
| | |
| | |
| It doesn't get any more luxurious. The Park Hyatt Tokyo houses high-end restaurants and bars hosting some of the best views of the city, most notably The New York Bar, featured in Lost in Translation. | With many locations, APA Hotels is the standard for Japanese Mid-Range hotels. Always new, decently sized rooms, and always well priced. |
| Check Prices | Check Prices |
| | |
| --- | --- |
| CAPSULE HOTEL | LOVE HOTEL |
| | |
| | |
| One of the few decent capsule hotels in Shinjuku. | One of the few Lovel Hotels you can book online. Plenty more in this infamous Love Hotel zone towards Higashi (North) Shinjuku area, but book online to lock it in. |
| Check Prices | Check Prices |
Shibuya
Where to Stay for Trendy Dining, Nightlife, Parks, and Youthful Atmosphere
Just south of Shinjuku on the JR Yamanote line, Shibuya is a highly popular shopping, dining and nightlife hub. Most recognized worldwide by the insanely congested intersection outside of Shibuya station (the most highly foot-trafficked crosswalk in the world), Shibuya is one of the most popular neighborhoods in Tokyo for the 20 to 30 something crowds, due to its youthful energy and plethora of shopping, food, and entertainment, including most of Tokyo's theme restaurants. Shibuya is also home the Yoyogi Park (the Central Park of Tokyo and host to a constant number of festivals throughout the year) and Harajuku, the epicenter of the famous Japanese youth fashion scene.
Shibuya is a good place to stay, for all of the same reasons as Shinjuku, plus there are more affordable options. Recommended for the 20-30 age groups looking for nightlife and socializing outside of Shinjuku or Roppongi.
| | |
| --- | --- |
| MID-RANGE | BUDGET |
| | |
| | |
| The Shibuya APA Hotel is a quick walk to Shibuya Station, and in the middle of all that Shibuya has going on. It's a great place to stay, and very affordable. | Conveniently located business hotel, with newer rooms at a low price. A good value as far as business hotels go. |
| Check Prices | Check Prices |
| | |
| --- | --- |
| HOSTEL | LOVE HOTEL |
| | |
| | |
| Clean, cheap, and well located. Variety of rooms to choose from. | Located in the famous Dogenzaka aka Love Hotel Hill, and the only one available to book in advance. Very classy. |
| Check Prices | Check Prices |
Roppongi
Where to Stay in Tokyo for Upscale Dining and Wild Nightlife
Known for its shopping, art galleries, beautiful high-rise office buildings and yet almost stigmatized by its world-famous reputation for wild and somewhat seedy nightlife, it's hard for most expats to think of Tokyo without thinking of Roppongi. It's by far the most popular area in the city for foreign tourists and expats and a truly international business district by day/ party district by night. Though professional during the day, hosting the Tokyo offices of many multinationals such as Google and Goldman Sachs, this area does get wild after the sun goes down.
Due to the high concentration of nightlife oriented towards foreigners, I would recommend staying in Roppongi only if you plan to take in the nightlife.  Lots of international dining options are available, and you certainly won't get bored. So if you do decide Roppongi is where you want to lay your head, make sure to read Japan Travel Rules for a few of the tips to make sure you stay safe. An uneducated tourist is ripe for the picking by the many scammers in Roppongi.
| | |
| --- | --- |
| LUXURY | MID-RANGE |
| | |
| | |
| One of the best hotels in Tokyo, with its' own fine-dining enclave as well as a sky bar. Located in the middle of the upscale Roppongi Hills area. |  Very large rooms for a Japanese hotel at this price point, and steps from everything you want to see in Roppongi. |
| Check Prices | Check Prices |
| | |
| --- | --- |
| HOSTEL | MID-RANGE |
| | |
| | |
| Clean, well-priced hostel, with plenty of different room options, very close to it all. |  This APA is located directly behind the Roppongi subway line, steps from everything. |
| Check Prices | Check Prices |
Ginza
Where to Stay for Upscale Shopping, Dining, and Proximity to Historic Sites
Tokyo's uber-wealthy center for shopping, "The Ginza" is to Tokyo what upper 5th Avenue is to New York. Primarily a shopping destination and some of the most expensive real estate in the world, Ginza is also host to some of the most expensive restaurants and best architecture in the city. Its' location close to the Imperial Palace makes it a good choice for seeking some of the cultural sites as well.  So, if you decide to visit for a daytime shopping trip or a Palace tour, it's worth a stay in the evening even if only to see the famous Ginza lights along the strip.
In conclusion, I wouldn't recommend Ginza as an option for the average tourist. However, I would recommend it simply for the proximity to some of Tokyo's most famous sites. Either way, it's included here because it isn't a bad choice.
| | |
| --- | --- |
| LUXURY | MID-RANGE |
| | |
| | |
| Really a top-notch hotel, and not a huge price. In the middle of Ginza, not far from the sites, and great views. | Hotel Monterey is another Japanese hotel brand I've come to like. Classy hotel, large rooms and usually well priced. |
| Check Prices | Check Prices |
APA Hotels has a few locations in Ginza which, if it wasn't clear yet, I always recommend at the mid-range price point. Also, Wise Owls Hostels and Imano Tokyo Ginza Hostel are a few hostels located in Ginza, offering budget solutions for accommodation. Especially if you enjoy mingling with other travelers.
Asakusa
Where to Stay in Tokyo for History, Markets, and Traditional Dining
East of Tokyo Station, the "Old Town" of Asakusa is best known for the Senso-Ji Temple, Tokyo Skytree and the numerous old market streets in the surrounding areas. Certainly not the place for high-end dining or nightlife, Asakusa is eerily quiet at night.  Nostalgic actually. In other words, I would recommend a stay here to experience the peaceful and historic side of Tokyo. At least once the hoards of tourists vacate the area at dusk.
| | |
| --- | --- |
| MID-RANGE RYOKAN | BUDGET RYOKAN  |
| | |
| | |
| A spacious Ryokan, right near the Senso-Ji Temple complete with private Onsens by reservation and traditional Japanese breakfast. Well priced, peaceful, and well located. | This Ryokan is also close to the temple, a very old fashioned Ryokan with a typical Ryokan style breakfast. Very peaceful. |
| Check Prices | Check Prices |
Onsen Town Ryokan
To get a real Onsen Ryokan experience, you'll need to catch the train to one of the many Onsen towns surrounding Tokyo. But, this is where you'll find all of the natural hot spring Onsens supplying the many hotels and public bathhouses.
Onsens are frequented by Japanese people coming from all over the country for the rejuvenating experience. Not surprisingly, many of these hotels can be quite expensive, as it's a time-honored tradition in Japan, and considered a real treat. Many of the Onsen Ryokan are actually family-run and have been operating for a very long time, some since Samurai times. And if you're traveling during Winter, I would claim that a stay at one of these hotels is a must.
Atami, Shizuoka Prefecture
Atami is a seaside Onsen town South of Tokyo in Shizuoka Prefecture, about 1.5 hours by Shinkansen, but a very scenic trip. Also a very popular Onsen retreat for those living in Tokyo and all over the country.
| | |
| --- | --- |
| MID-RANGE ONSEN RYOKAN | LUXURY PRIVATE ONSEN RYOKAN |
| | |
| | |
| Traditional style tatami rooms, meals and numerous outdoor Onsens overlooking the city and the mountains are what makes this one worth the trip. Also, priced very well at the expense of a private Onsen for each room. | If you're going to splurge on an Onsen experience, this is the place to do it. Situated up in the hills and overlooking the ocean, complete with Japanse style gardens. Lastly, expect some epic views from your private Onsen if you decide to spend the money to stay here. |
| Check Prices | Check Prices |
Kusatsu, Gunma Prefecture
Kusatsu is another popular Onsen retreat, this one situated in the mountains Northwest of Tokyo. However, this one is a bit harder to get to. So you'll need to take a combination of Shinkansen, local trains, and taxis over a 3-hour trip. The trip may be inconvenient if your intent is to stay in the city, but it's well worth it. Also a very popular Winter retreat for skiing.
| | |
| --- | --- |
| MID-RANGE ONSEN RYOKAN  | LUXURY ONSEN RYOKAN  |
| | |
| | |
| This is traditional Ryokan up in the mountains with various outdoor Onsens and a large outdoor public Onsen. Very affordable price and easy to find from the train station. | Another splurge-worthy Onsen retreat, this Ryokan hosts traditional Ryokan rooms, with or without private Onsens (a bit cheaper), and some amazing views. Also, the food here is worth the train ride alone, in my opinion. |
| Check Prices | Check Prices |
Copyright secured by Digiprove © 2019